Man, I posted this 1.5 years ago! Several folders have come and gone since then, and I can definitely say that the Super Fujica Six has been the best overall. Definitely the most straightforward to use, and the lens is very impressive when it wants to be. Sadly, just a week after a trip to Iceland, mine fell onto a carpet from about 3 feet up and was mangled beyond repair. Served me well for that trip, though!
I think mine had a bit of an issue with the front standard, which perhaps brought the lens just a tiny bit too close to the film plane at 'infinity.' Lots of my landscape shots ended up a smidge soft, almost as though they were stopped down into diffraction territory (which they weren't). However, sometimes I'd end up with a very satisfactorily sharp image like this one. Sharpness is sadly the only thing it has going for it (boring subject matter aside, it's badly exposed, badly developed, and hastily camera-scanned), but it's still a useful example! XP2 @800, HC-110.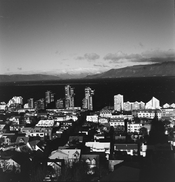 Here's a center crop at 5000x5000 resolution:
And from the right edge:
I also wouldn't say the lens is overly clinical, either. A really nice all-rounder. Two issues, though: 1. The edges of the film frame were on the shiny side, so I got some internal reflections that I fixed with some strips of black Shurtape. 2. No strap lugs!
Now, I've got a Mamiya 6K (Sekor lens) and a Zeiss 532/16. Very different cameras, neither of which has a lens as technically good as the Fujica's (sharp centers but soft, tessar-y borders). The Mamiya isn't for me, thanks to red-window film advance, but I do like the Zeiss and the lens has plenty of character. I think I'll end up getting another Fujica, though, or maybe bunging the lens/shutter from my old one onto a new body. I also wouldn't mind checking out a Mamiya 6 Automat, because I do like that rear wheel focus!