Joined

Jan 20, 2005
Messages

1,828
Location
Format

35mm
I was wondering why we don't have a thread on folks sharing their completed alternative process prints (hybrid or otherwise.)
It will be good to post a picture of the print and give some details of the materials and process used. In particular, please share if you like, if there was a particular technical hurdle and how you were able to surpass.
I will go first...
Process is salted paper.
Salting solution = NaCl (3%) + citric acid (7.5%)
Silver nitrate = 15%
Paper = COT 320, 5"x8" sheet
Exposure = 8 mins spiral BLB's
Straight silver, no toning.
Main hurdle was the digital negative - specifically the high UV density required to obtain clean whites. The printer I have, the Epson P400, didn't quite cut it when used in the conventional way, even with a colorized negative. The printer driver unfortunately does not allow spiking the ink density unlike the other higher-end printers. I had given up but then thought I will give one more try to QTRip, that allows one to control density of individual inks. That, in conjunction with Pictorico Ultra Premium transparency allowed me to print (100%PK + 50%Y and 50%C) all together at the 0%B step with the negative coming out pretty much dry from the printer. The whites came out near paper-white with this combo. Fixxons was a no-go for this high of an ink density, it maxed out at around +20% before severe puddling became a problem.
The picture: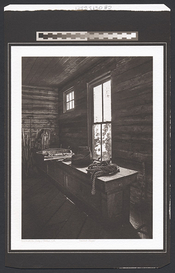 Blacksmith Shop / Ghost Town of Garnet, MT.
Comments/questions welcome. Feel free to add your work too.
:Niranjan.
Last edited: