Posts about surge and bromide drag when using stand and semi-stand development come up fairly often, and I've read just about every thread on every forum that touches on both topics but I'm still at a bit of a loss.
Caveat: This isn't an opening to have yet another discussion debating the merits of stand or semi-stand development. It's a tool that works well when called for. I've used it for years and it works well for me. Regular time and temperature also works well. Just trying to solve this particular issue so let's please stick to that.
On to the problem. The following are all of the factors at play in how I'm developing. I'm including example test images to show the problem and how it changes based on changes in the development technique. Those are just quick iPhone photos from the negatives on a light table so ignore all the dust and stuff.
In the case of these negatives, I'm using semi-stand development (Tri-X in HC-110 1+119) in a Patterson tank with Patterson reels, I'm getting stripes in line with the sprocket holes in areas of continuous tone (mainly open skies). The strips are wider areas with greater density directly below the sprocket holes, and in between more narrow less developed stripes in line with the spaces between the sprocket holes. On the positive, they appear as lighter wide stripes between darker narrow stripes.
First, my understanding is that surging produces areas of greater density in line with sprocket holes on the negative so I've been thinking that's what I have going on but I'm unsure and would like to confirm. Is this surging or bromide drag?
As mentioned, I've been reading everything I can find on this and common responses are that surging on 35mm occurs with too vignerons agitation causing an increase in fluid velocity through the sprocket holes resulting in greater development below them. In an attempt to resolve the issue I did a few tests.
Test 1: I agitated gently at the beginning of development by rotating and revolving the tank slowly and gently for three revolutions. Placed the tank down and tapped it to release any possible bubbles and then let sit for half of the development time. Then agitated with 3 gentle agitations using the same method previously mentioned then completed development by letting it sit. This reduced the stripes but did not eliminate them. Look in the sky:
Test 2: I then decided to try without agitation at the beginning of development and with the same 3 gentle rotating revolutions at the midpoint for agitation. I figured that maybe, if it's in fact surging, the agitation at the beginning might have been the cause because the developer is at its strongest at the beginning. However, this test produced more pronounced stripes. Again, look in the sky. Also, ignore the bottom edge of the film in this example as that density difference is just because the film is still wet in this example: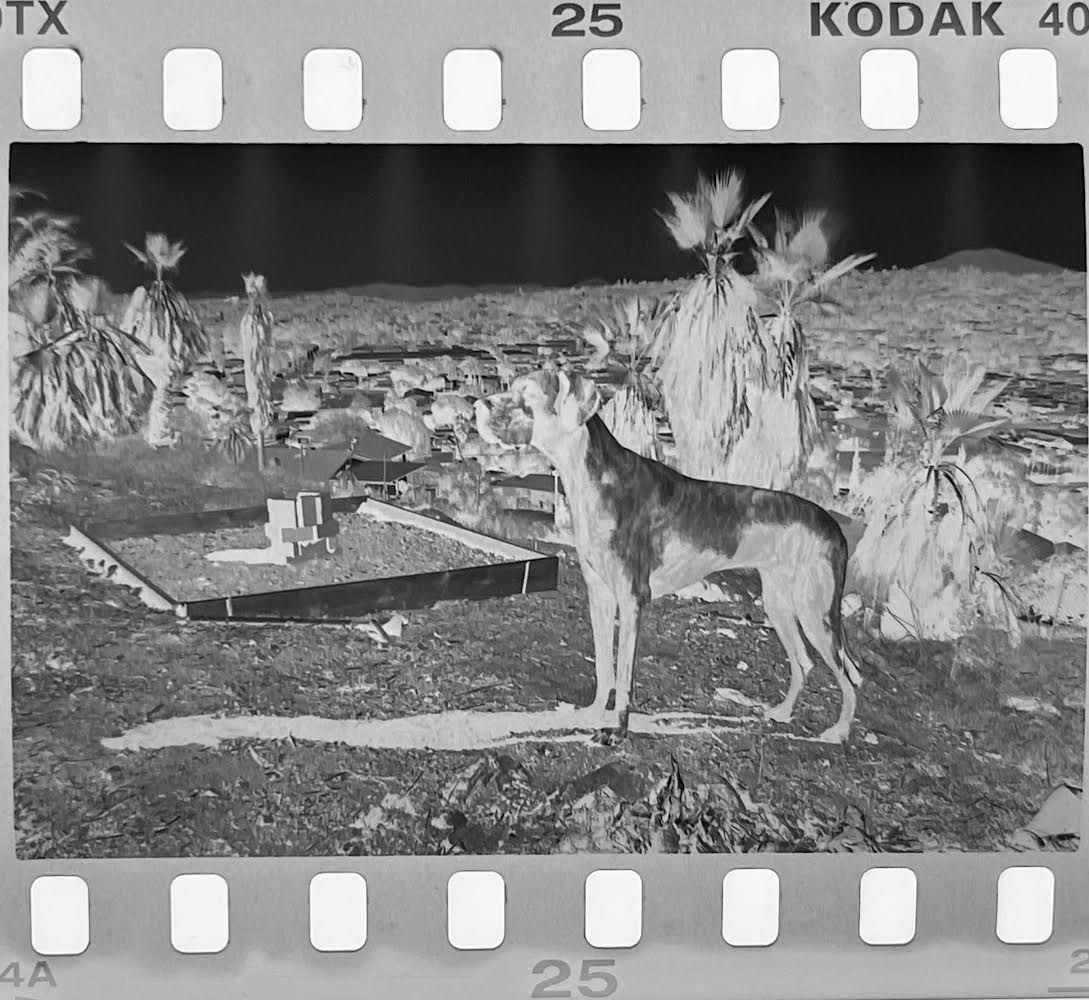 In my reading, another common remark is about incomplete fixing with many people stating that semi-exhausted fixer could be the problem and with some respondents stating that upon re-fixing the stripes disappeared. Based on that, I made sure to use fresh fixer and I also re-fixed previous tests to see if the stripes cleared and they did not.
I'm now thinking that if it's not surge marks and is instead bromide drag, my minimal agitation may not be frequent enough to eliminate the drag since the first test above with gentle agitation did reduce the artifacts but the test with no initial agitation produced more pronounced stripes. So now I'm considering a minimal agitation protocol based on what Sandy King and some others have described in previous threads. In methods like that, a few more frequent very gentle agitations are used progressively less frequently as development progresses.
If anyone can confirm what is actually happening in these negatives it would be very much appreciated and helpful as I get it resolved. Thanks very much in advance.