Joined

Oct 6, 2021
Messages

73
Location
Shooter

35mm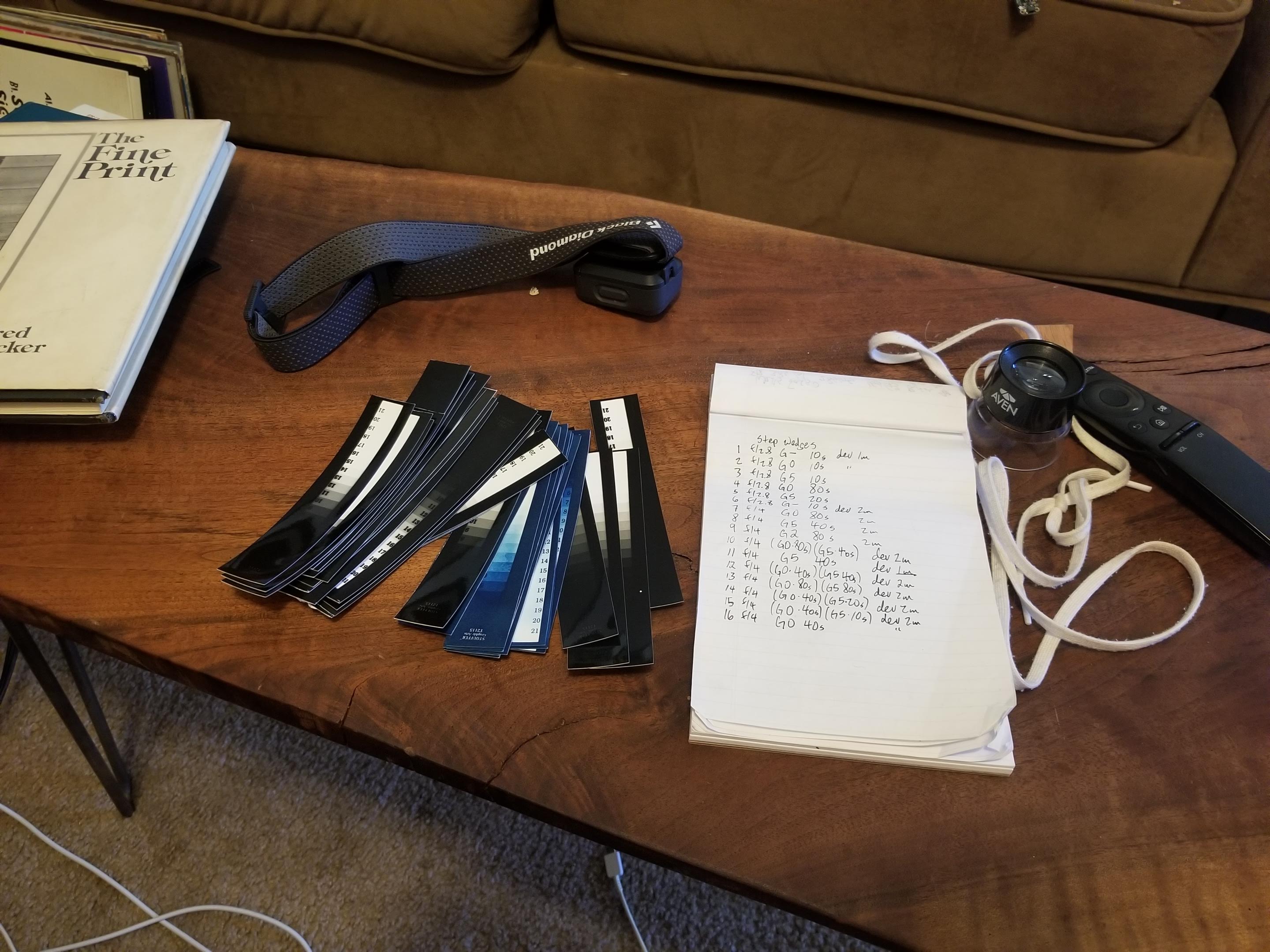 A note about the graphs
, the x-axis is just in terms of pixels along the strip, so its essentially increasing exposure from 0 to 2000 because that's how the strip is set up, and each point is the value of the strip pixel at that point along it. I just picked a line through each strip near the middle. The values are computed by taking log(pixel / darkest_pixel_anywhere) where darkest_pixel_anywhere is a constant found by looking for the maximum black pixel value out of all three scans. So 0 on the scale is sort of artificial but at least well-defined.
Development time:
This was the most surprising result, but with my setup, I'm getting much more range from my RC paper by developing for another minute longer than Ilford's recommended time of 1m. This is super noticeable in-person and I will for sure being doing 2 test strips at the start of each printing session, 1m and 2m from now on, to check how long I should be developing for. I've noticed this gap get smaller or go away on some days, I think its probably related to room temperature or possibly developer exhaustion (I use a shared community college darkroom)
Split grade printing:
Here is a really interesting result from trying to see the result of split grade printing. I've seen it quoted that split grade isn't different than using regular contrast filters other than you can go in-between grades (And dodge/burn different grades). But I don't think that's necessarily true based on this graph. You can see that the highlights remain basically unaffected by the grade 5 exposure until it approaches 50% of the total time. This coincides with my experience that I can use a short grade 5 exposure on a print to bring my dark grays all the way to black without affecting any of the other tones.
Contrast Grades:
This needs some more work to align the exposures, but just pulling from the data I already have, this is kind of interesting to see the relative slopes of different contrast grades. Note that in the case of the split grade print, it does quite closely resemble a grade 2 exposure in this case.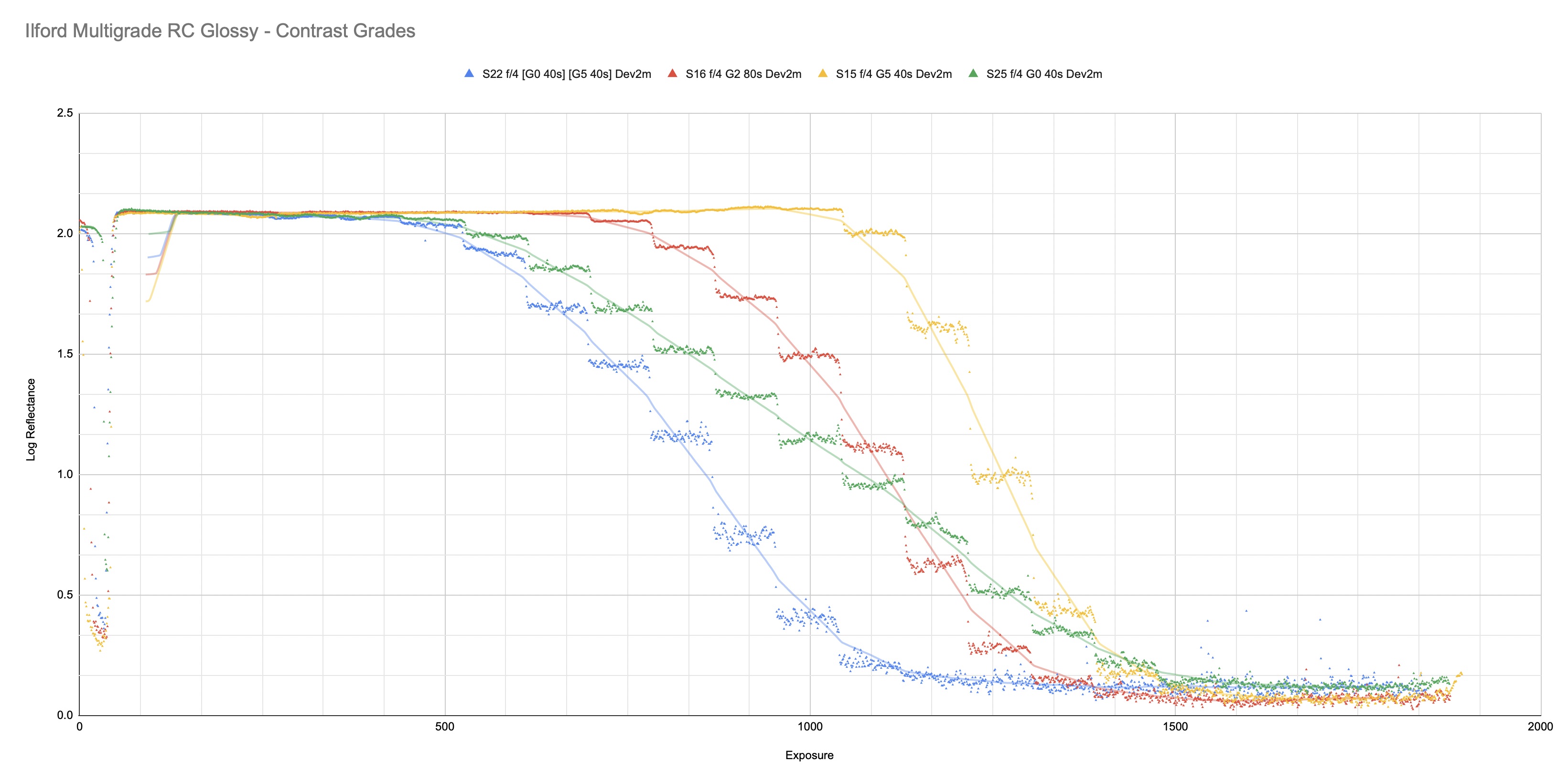 Cyanotype:
This was super interesting to me! Before I got access to my community college darkroom, I had been making tons of Cyanotypes and even upgraded to the "New Cyanotype" formula. This is a comparison of New Cyanotype to Multigrade paper. It really blows me away how incredible these "modern" materials are. A couple interesting aspects of the cyanotype curve; the elbow shape with a low-contrast toe and then a short, high contrast, section leading right into the shoulder has been something that is really annoying me about cyanotypes because its so hard to get clean highlights and dark shadows at the same time. I had to start creating really high contrast negatives by giving N+2 development to make them look okay. Cool to see that vindicated in the data. Also the slight upwards hump at the end is a real thing. The cyanotype process reverses pretty significantly with over exposure and starts creating "Prussian White" instead of Prussian Blue. This oxidizes back to blue but never quite as dark as sections that weren't over exposed.
Cyanotype contrast:
One thing I noticed a while back is that the amount of acid mixed into the sensitizer had an effect on contrast. Its more subtle than with multigrade papers but noticeable in prints and here in the data.
Acknowledgements
: I'd like to thank my thesis advisor Sage for her watchful nonchalance