Joined

Jun 8, 2004
Messages

627
Location
Shooter

Multi Format
In 2001 I moved to Florida and built a new home. I put in what I thought would be a darkroom that would last me for a long time. Here's the wet side, 16 feet long:
The dryside/enlarger side:
I could print 20x24 archival prints and enlarge up to 5x7 negatives.
In 2006 I was recalled back into the Army and deployed to Iraq in 2007. We decided to sell the Florida home and bough a new home in Newnan GA so my wife would be closed to family while I was gone. I had to tear out my darkroom inorder to sell the house.

The new house had a room set aside in the basement for a darkroom but I never had time to build it (2nd tour to Iraq and commuting to a job in Florida). Two years ago I managed to get the enlarger room built out. I just retired and I'm focused on getting the darkroom built.
I sent the last two days building shelves to hold 130 or so Carousel 140 slide trays.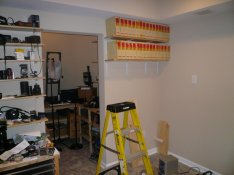 From the entarnce door:
The sink will be L shaped. The rear wall will be the film developing area and on the right side will be the print area. My goal is to have it done by Jan 15th.
This will be my 5th darkroom (not counting converted closets

) and hopefully my last. It will handle 20x24 archiveal prints and negatives up to 5x7".
As I make progress more photos will come.