Ilford has released a new disposable camera in the past few months, being the Ilfocolor Rapid Retro Edition
I figured it was just another Kodak filled disposable camera, but I then saw
this video
comparing it with Kodak and Fuji disposables. It seemed different from the others, especially Kodak. I chalked this up to perhaps differences in the lens, shutter timing, and such. Although it was at least different enough from Kodak that I assumed it wasn't an Ultramax stock.
It seemed quite similar to the Fuji disposable, still different, but close enough, But this didn't make much sense considering Fuji don't sell their film out to third parties anymore for rebranding purposes.
So I bought one of these myself, wound it back into the cartridge, and cracked it open.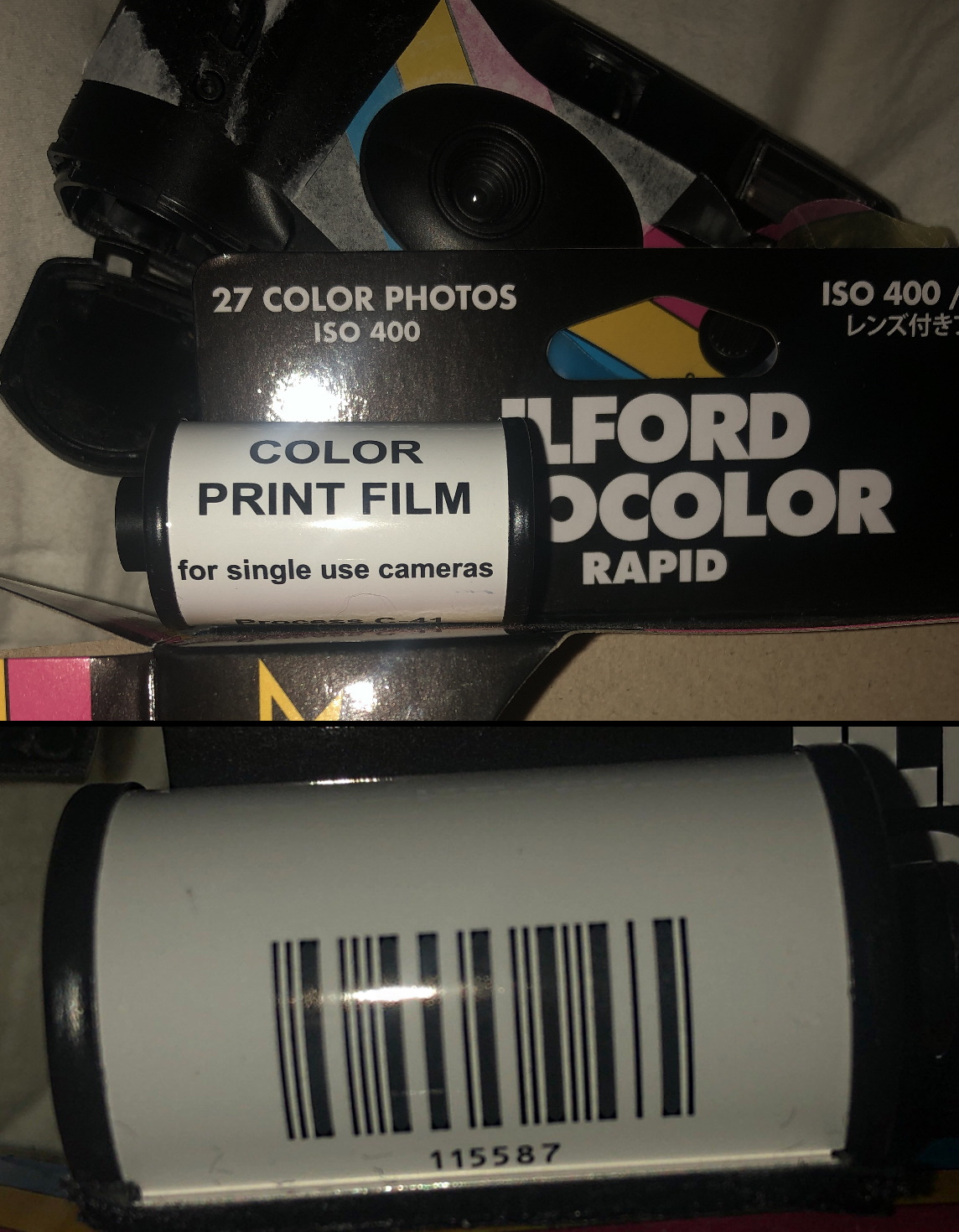 I scanned the barcode and got the number which was written under it, handy. I looked this number up, and I found a
flickr thread from almost a decade ago
, which catalogues film stocks based on their barcode number. Two separate people listed this number, and both said it was "Ferrania Solaris 400". I don't know much about that stock but as far as I can see that wasn't a rebranded film, but made in house.
I highly doubt it's this film, considering Ferrania doesn't have capacity to even produce c41 film, let alone black and white currently. While I don't have any other disposable film on hand, maybe it's a generic number for disposable film? Although if it was there would probably be more results for it.
It also lacks any labeling or logos, Kodak disposable film has a serrated top to their rolls, as well as the Kodak name.
Fuji's disposable film lacks the serrated teeth, but is styled completely differently, showing the text in a different orientation.
So, what is this stuff?
Doing even more research I came across a
dxcode searching tool
, which said this was "likely" Kodak film, but it was discontinued.
I also feel like if this was long term cold stored film from over a decade ago, Ilford would have made a big deal about it, and press releases, to make hype over this.
There is also no way in hell they are coating their own film, we would have heard huge press releases over this also.
I am going to buy a 400 iso kodak disposable, as well as a fujifilm one, remove the film, then shoot some color test charts on my Nikon F4 with all three within the next two weeks. I'll send them all to the same lab instead of processing it myself to reduce any chance of mistake or variance. I will then post the un-converted scans when I do.
Feel free to share any thoughts below though, I'd love to know anything else about it