I am doing some research to assist in a project I am working on.
I am reasonable competent in using what is to me a standard colour enlarger for RA-4 materials. i.e. something like this.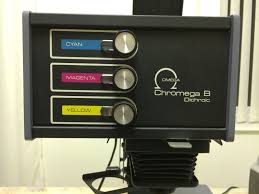 I would like to understand some parts of descriptions in this Kodak Document regarding making BW negatives from colour negatives.
The document is here:
https://www.kodak.com/uploadedfiles...ost_Production/Archival_Films/2238_TI2404.pdf
I understand most of it, pretty well. However my knowledge is sketchy when Kodak, refers to additive and subtractive lamphouses. I realize these are being used in motion picture context of course.
Am I correct in assuming that when Kodak refers to subtractive printing, they are referring to what I am used to. i.e. single mixed lightsource, that is then filtered.
And for Additive printing, they are referring to lamphouse with separate lightsources that can filtered or given individual times times?
Like this