Joined

Feb 25, 2005
Messages

2,266
Location
Format

4x5 Format
Rediscovering an American Community of Color: The Photographs of William Bullard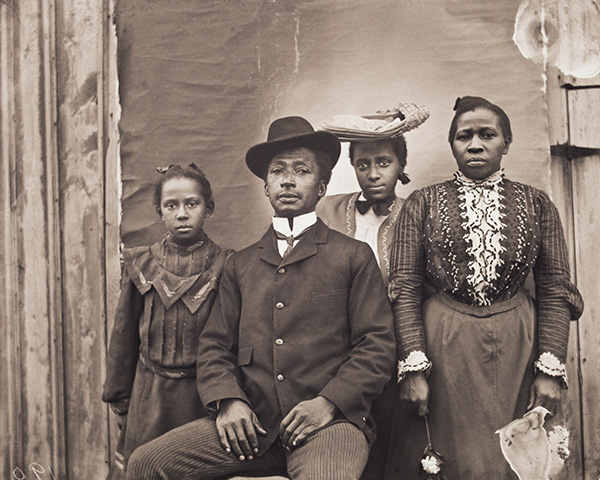 Above: William Bullard,
James & Jennie Johnson Family,
1894-1918; printed 2016, E.132.16.10
October 14, 2017 - February 25, 2018
Itinerant photographer William Bullard left behind a trove of over 5,400 glass negatives at the time of his death in 1918. Among these negatives are over 230 portraits of African Americans and Native Americans mostly from the Beaver Brook community in Worcester, Massachusetts.
Rediscovering an American Community of Color
features eighty of these unprinted and heretofore unpublished photographs that otherwise may have been lost to history. Bullard identified over 80% of his sitters in his logbook, making this collection especially rare among extant photographic collections of people of color taken before World War I and enables this exhibition to tell specific stories about individuals and recreate a more accurate historical context. Moreover, Bullard's portraits examine the role of photography as the vehicle for a "new Black identity" during the nascent years of the New Negro movement. Offering a photographic narrative of migration and resettlement in the aftermath of Emancipation and Reconstruction, Bullard's portraits address larger themes involving race in American history, many of which remain relevant today, notably, the story of people of color claiming their rightful place in society as well as the fundamentally American story of migration, immigration, and the creation of a community in new surroundings
A comprehensive website hosted by Clark University (
www.bullardphotos.org
) offers teaching resources for educators, all of the photographs and sitters featured in
Rediscovering an American Community of Color
, a map of the Beaver Brook neighborhood (circa 1911), and additional research written by the Clark students who participated in a seminar related to the exhibition.
RELATED PROGRAMS
Saturday, October 14, 12pm:
Musical tribute to Bullard portrait sitter and musician David T. Oswell by his descendents, Raymond T Jackson, D.M.A. (piano), Emma Jean Boyd (violin) and Joshua Allen Boyd (cello). Free with Museum admission.
Thursday, October 19, 5:30-8pm:
Reception with cash bar.
6pm:
Master Series Third Thursday
including performance by Native American flute player Strong Eagle Daly and art talk by Maurice Wallace, Ph.D., Carter G. Woodson Institute for African American and African Studies, University of Virginia.
Hosted by the Worcester Art Museum's Members' Council and free with Museum admission.
Presented with support from Mass Humanities. Additional support is provided by the Bernard and Louise Palitz Fund.
Master Series
is sponsored by:
Rediscovering an American Community of Color
was organized in partnership with, and with support from, Clark University. The Museum extends its gratitude to Mass Humanities, the McMillan Stewart Foundation, and Stephen J. Javaras and Robert A. Collins for their financial support. This project is also funded in part by the Hall and Kate Peterson Photography Fund.
In addition, Frank J. Morill generously provided the Museum with the Bullard negatives and years of dedicated research. Finally, the Museum thanks the members of the community and descendants of Bullard's sitters who offered advice, told stores and filled in crucial gaps that deepened the power of these portraits.
Dead Link Removed
Sponsored by:

Media Partner:
SELECTED IMAGES
PRESS
Pdnonline.com
William Bullard's Portrait of Worcester
October 13, 2017
Clark University
Clark partners with Worcester Art Museum to revive a rich, yet underexposed, history
By Meredith Woodward King, October 12, 2017
Press Release