Joined

Jun 8, 2004
Messages

627
Location
Shooter

Multi Format
Well, my darkroom is coming along quite nicely. Today I was working on the safelights and since I have a separate enlarging room I needed more safelights.
(there was a url link here which no longer exists)
Way back in 2006 or so I picked up some darkroom items that included a pair of old Kodak Model A safelights on stands. Condition of the safelights was unknown. Today I dug them out and soon had one working by swapping some parts around.
Rather than tossing the 2nd one out I decided to see if I could re-hab it and get both working.
The second one had a bad socket. The wires were bare in places and needed replacement.
So off to Home Depot to see what I could find. The original socket is held in by a friction ring 1940's style. Nothing like it at all. I decided to use a lamp socket but had a huge hole to deal with. I found a couple of large fender washers that I thought I could make work. I also need some 1/4" 20 bolts & washers. The originals had LEATHER washers - not easy to find so I just used metal ones.
I used a 25/64" drill bit to open up the washer holes so the lamp stud would fit.
Putting it all together I found that it should work.
I re-attached the stand using a replacement bolt and plugged it int. Success! Now both are working.
I also drilled 4 holes in each base so that I can mount them. Kodak made a bracket that the base slides into for mounting but good luck finding one today!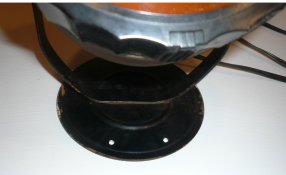 So instead of going into a landfill these old safelights are going into my darkroom. I do need to get a new 5.25" OC filter but they are easy to find.
Last edited by a moderator: