I have been thinking I wanted something small easy to carry, with bigger frames than 24x36, but smaller than my 6x9 folder. 6x4,5 is nice: 16 frames per roll, not too few not too many.
By chance someone around here was selling a Zeiss Ikon 521. It has no rangefinder and I don't trust myself with distance guessing, but i have a Smena and a Blik.
this 521 is from 1952, and pristine, I just repaired the case, top was missing so I made one with thick rigid cardboard, scraps of fabric, leather and neoprene glue.
Lens is a Novar so I am not expecting much. It was late evening, getting dark, I loaded a roll of Fomapan-400, shot at iso 800 and developed in Rodinal 1+50 19mn.
the 521 besides my other camera for 6x4,5 a Bronica S2. The Ikonta is really very small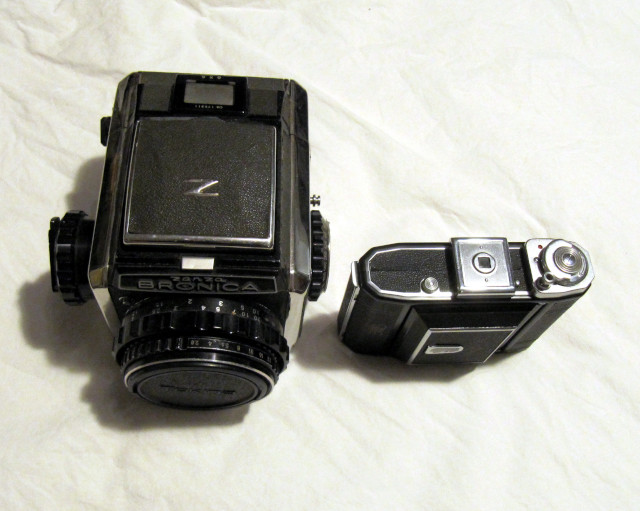 I used the RF as is, but I could glue a shoe. In case I use the camera with the case it must be on the top, and then better the Smena, for the Blik not possible to open the viewfinder, but a finder can be glued on top of the Blik: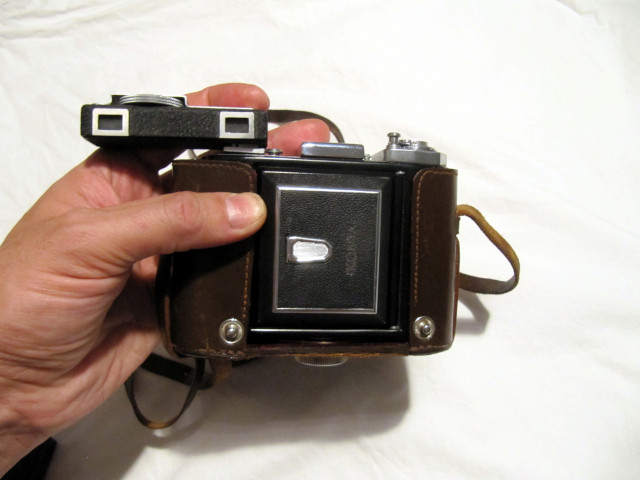 without the case, RF can be attached on the opening latch on the side, which is also convenient in case of shooting landscape
so it was late, was not sure about Fomapan-400 at 800 and the triplet Novar lens, but not bad:
f 3.5
f3.5
f8
So I like it very much. I see the ones with the coupled RF, ie. the 531 can sell for 3x or 4x what I paid for this one. But with a carefully adjusted Blik or any Watameter, Pegasus, Voigtländer, etc RF, it's a nice little camera to have in the pocket for this and that.