Joined

Dec 29, 2018
Messages

666
Location
Shooter

Traditional
I recently acquired this model at toy camera prices and there seems to be a dearth of info available on the internet so I thought I'd post some photos and a description for comparison & discussion.
Hanimex M35 w/ a 40mm f2.8 Color-Isconar and EV coupled 4-bladed leaf shutter/aperture (EV 14-8 @ ISO 100; 1/300s @ f16 ... 1/30s @ f2.8)
Fully-manual, scale focusing 35mm camera with brightline viewfinder, hot-shoe (X, M adjustable), threaded cable release for shutter and optional bulb mode.
No meter, but there's a plasticky indication of one on the front next to the viewfinder. Add a shoe-mount rangefinder for critical focus.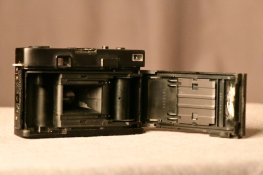 Shaka, When the Walls Fell
Super lightweight and reasonably durable. I expect the images to be somewhere around 35mm holga. A slimmer profile for pocketing would be the only improvement I can think of. Scans forthcoming!