Joined

Nov 25, 2007
Messages

3,410
Location
Shooter

35mm
I recently acquired a Vivitar XC-3 (Cosina CSL) that was manufactured in the late 1970s. It has an electronic shutter from 4 sec to 1/1000, plus a mechanical shutter for Bulb and 'M' (1/50). Its film advance is one of the smoothest ever and it looks great. There is a frustrating problem that I think I cannot fix, but want to know, anyway, what causes this dilemma.
If the electronic shutter has not been fired for some time (from 30 minutes to days), it initially caps, which, in this case, acts as if there is not power in the camera (this, despite the fact that the LED meter is fully operable, always). After a few firings, the electronic shutter begins to work, accurately.
This situation is determined by the time that the shutter was not used. For example, if I do not fire the shutter for, say 20 to 30 minutes, one or two firings is necessary to activate an accurate electronic shutter. If I do not fire the shutter for, say, twelve hours, like, for example, overnight, it takes up to seven or eight firings to make the electronic shutter act accurately. In all cases, once it begins to fire accurately, as long as I keep no pause more than about 15 minutes, it continues to fire accurately.
The electronic shutter mechanism seems to need an electronic 'boot': that's all I can say, because I do not understand these things well. It seems that its 'capacitor' needs a revitalization of 'lost' power through not using it for that short time. The mechanical shutter is never a problem, but you can see how frustrating this problem is because, with film loaded, one does not know if the shutter is really firing, because faster speeds sound just like the 'curtain-capped speed'.
Please don't suggest that I visit an electronics store and 'buy a certain capacitor': I am too stupid to know how to install it. If that is the only answer, state it, but know, in advance, that all you will be doing is informing me of the problem (yes, this also helps) and not actually solving the problem. Thank you. - David Lyga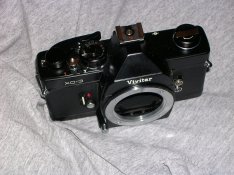 Butkus manual:
http://www.cameramanuals.org/pdf_files/vivitar_xc-3.pdf