Joined

Aug 13, 2009
Messages

4,444
Location
Format

Multi Format
Hello Everyone,
I didn't see it posted elsewhere on APUG/Photrio, and so I feel a sense of duty to inform everyone here about the passing of Bob Crowley on April 26th, 2022 at the age of 69. Bob's obituary and memorial page can be found
here
.
In the photo world, Bob was best known as the mastermind and driving force behind New55 - one of the earliest post-digital small-scale entrepreneurial film manufacturing efforts.
Back around 2011 Bob launched a
blog
and then in 2014 a
Kickstarter
effort to engage the community of peel-apart film enthusiasts. Ultimately he introduced New55 as a viable peel-apart film product to the market. Bob was an occasional poster on APUG under the handle BobCrowley, and I'll bet you will find most of his posts centered around
monobaths.
In 2016 another Kickstarter was launched for
New55 Color
, but this unfortunately did not come to fruition. Nevertheless, Bob remained a kindred spirit among other photographic dreamers and was even there at times to witness the growth of
the Impossible Project
. He can be seen here in
this random (and amusing) clip
with Florian 'Doc' Kaps.
Bob was a prolific inventor with over 125 patents in a wide range of disciplines, from medical devices to
antennae
to
microphones
. One of his most successful inventions was a novel material for ribbon microphones, as embodied in the Crowley & Tripp Naked Eye ribbon mic. This technology was ultimately purchased by
Shure Inc.
Bob had many hobbies and interests, among them, ham radio, shakuhachi flute and in his younger days, visual services for local music acts... Think psychedelic oil projections for rock bands. He even once told me something about bees and beekeeping... I wish I remembered more.
From a personal standpoint, I considered Bob a friend, having met him in 2011 when we both attended an emulsion making workshop at the George Eastman House, taught by the late
great
Ron Mowrey
. Being a midwestern kid, I was taken by this eccentric inventor with a thick Boston accent and an infectious enthusiasm for photographic technology. He was carrying around a piece of Polaroid positive receiver sheet and kept going on about "
nanoparticles!"
and all the amazing secrets of the Polaroid geniuses back east. He really respected the people behind technological innovations...
Edith Weyde
,
André Rott
,
Edwin Land
.
Bob and I kept in touch and crossed paths a few times in the decade to follow. We met up once more in Rochester and another time (2016) I visited the New55 facility in Ashland. He and his wife Pat kindly welcomed me into their home. The next morning Bob and I went to a ham radio swap meet and I found a pair of antique glass optical prisms, which I still have today. A small keepsake, but an appropriate one.
While visiting New55 I was lucky to see "The Thing" in action, which was a cobbled together (but brilliantly functional) coating machine for New55's positive receiver sheet. I was in awe... tinkering at its best! Bob and the New55 team managed to formulate their own reagent and positive receiver sheet from scratch - no mean feat.
In addition to being a prolific inventor and brilliant technical mind, Bob was a very kind and decent person with a good sense of humor. Whenever I came to him with questions or ideas, he was helpful, generous, and encouraging. Bob's work is an inspiration for me, and probably many others as well.
I was fortunate enough to speak with Bob back in January of this year after learning of his fight with cancer. He was still sharp and continuing to care about the future of chemical photography in the modern era. It is my understanding that before he passed, he sold the intellectual property of New55 to Sam Hiser of
Famous Format
. Sam has ambitions to bring back New55 in a meaningful way and to keep this film format alive.
So please, raise a glass this evening in memory of Mr. Crowley and salute his efforts to preserve chemical photographic history in the most meaningful way possible - by taking a shot at manufacturing a film product and believing in its value to photographers worldwide.
Cheers Bob, you will be missed,
Chris Holmquist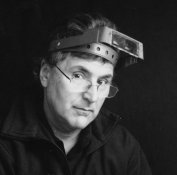 Last edited: