Joined

Aug 29, 2002
Messages

11,495
Location
Shooter

Multi Format
If you remember this image below, you've been with us for a long time!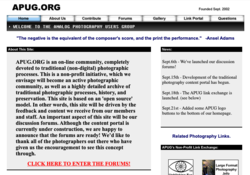 I have been running this forum for nearly half of my life. I don't think I could imagine my life without it, as it has become part of my day-to-day routine 7 days a week since it began.
It has been a bit of a rollercoaster and I see no way to do a full recap of the last 20yrs that could do the place justice. The joys have far outweighed the dramas that creep up from time to time.
I mean this with all my heart, I am forever grateful for the support of all involved whether moderating, advising, coding, being patient with upgrades, being patient as I juggle the community and the day job, accepting that I don't always 'get it right', subscribing, donating, advertising or posting great content. As long as people find the community useful I will keep at it!
These 20 years have gone by so fast, that it doesn't seem impossible to think another blink of an eye and we'll be at 40yrs.
I believe we still have a lot of untapped potential and I will focus on that for the next 20.
Thanks All!
Sean