Joined

Aug 5, 2012
Messages

8,355
Location
Shooter

8x10 Format
So, a very talented and pretty famous photographer and author and member here on APUG generously gifted me for a VERY small price, this baby....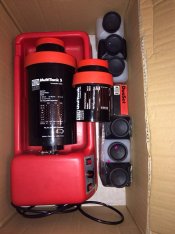 So now what?
So many questions...
1. Let's start with the obvious, is there a certain water level that I'm expected to have with this thing? I don't see any markings that indicate how high it should be.
2. The smaller tank doesn't seem to fit on the rollers that are below inside of the tank here, does this mean that it's safe to float on the water without the rollers or will that put too much strain on the motor?
3. There are many size tanks and reels, and a little confused, however I do understand that this is certainly enough tank real combo to do most everything except for 4x5. Though as I understand it the larger tank can take a 4 x 5 real but I'm not sure which one/ones? Is it the 2509? And why is there an N at the end of some and not others, does they mean something?
4. There is also a 4x5 "expert" drum that everyone tells me is the one that I'm supposed to have because it's better somehow? But the prices seem really really high for that, so I'm unsure about that or if it's the right thing at all, or if the 2509 reals are sufficient, I do plan to develop some of the infrared film that tends to be very thin.
5. How the heck do you load these things? The Paterson reels that I have are so simple, they aren't actually Patterson there's some other sub company called Rokunar, they have a nice tongue that comes out to help guide the film, as well as the autoloading ball bearings. The Patterson reels don't seem to even have ball bearings, and I'm not sure how I'm supposed to feed the film without touching it all the time getting fingerprints all over it. I have two tanks apparently a Unintank 1500 seriee and a multitank 2500 series.
6. There's indicators on the outside of the tanks telling me that certain tanks take certain milliliters of developer, but sometimes there are two dev amounts listed, but it's unclear what the numbers correspond to when there are two numbers available. Like it lists when you can use one or two 120 rolls, also I read somewhere that you can use to 120 rolls in the same real, but I'm not sure if I understand how you're supposed to load them in it doesn't really make any sense.
7. There is some kind of 4x5 loading piece for the reels as well, but I'm really sure what that's about either, one did not come with the kit, what I mean is that it looks that way online but I don't know what it is exactly.
8. There's a one button and a two button, and that's really all there are besides the temperature indicator, but I'm not really sure what the one button or the two button really does. It has a European power supply so I have to go out to RadioShack and get a transistor or whatever you call it to convert it to regular American power, so I haven't been able to actually test it out yet at all.
I'm sure as soon as possible to this I'm going to have more questions that come to mind.
Either way now that I actually see one in person, I understand what it really is, I was very resistant to get a processor because of the price, obviously thankfully the price for this one was not too high at all and I really got a bargain, however now that it's in my hands I completely understand the value of it, I also understand that is not as bagel nor as heavy as I would have thought.
At least I'll be able to start developing all of my color film, I have so much of it piled up.