Joined

Aug 30, 2006
Messages

65
Location
Shooter

Multi Format
Among other gear I'm looking to find homes for I have two Jobo systems that have definitely been used, but were still functioning well the last I saw them in action (Dad's darkroom, 4-5 years ago before he passed away). Both have lifters, several drums, full sets of bottles and beakers.
JOBO CPP 2 processor with lifter, drums, tanks and bottles. Up to 20 x 24 inch size drum
JOBO CPE 2 Processor with lifter, drums, tanks and bottles.
I'd like to get $700 (was
$800)
for the CPP2 and $450 (was
500
) for the CPE2, but prices are open to negotiation. As with the enlarger I'm selling (Saunders 4500, just posted) I can probably arrange hand-off of these flexibly from Philly to central NC. Shipping would have to be "TBD at buyer's expense"
And a portion of proceeds will go to Photrio, I think that's only fair.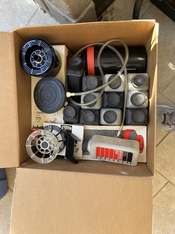 Last edited: