Joined

Aug 8, 2013
Messages

5
Location
Format

35mm RF
I am selling my beloved Hasselblad 500C/M kit. Most components are in like new or excellent condition except one of the backs that is in bargain condition.This is a bargain for somebody who wants to switch to medium format, as it contains nearly everything a real photographer needs.
I have calculated the approximative price of the kit by looking up the used prices of the components on KEH, according to each component's condition. Here is a rundown:
Body 500 C/M (w/ screen and w/l finder) 546
Lens CF 150 T* 379
Lens CF 50 T* 750
Lens CF 80 T* 569
Hasselblad UV/Sky Bay 60 69
Hasselblad UV/Sky Bay 60 69
Hasselblad Polarizer Bay 60 78
Compendium Hood (w/ inserts) 50
Hood 150 40
Hood 50 40
Hood 80 40
120 Back 179
120 Back (w/ dark slide holder) 189
Metered Prism PME-3 275
Acute-Matte Screen D (w/ grids) 350
Strap 40
Extension Tube Bay 60 80
Total 3743
All the components are original Hasselblad items and in excellent working and cosmetic condition (only one back looks beaten up, but works properly).
I take 15% off, which is the premium KEH normally charges over the used market price. I also take 15% off for the bundle, because I am selling this only as a single package. This brings my final price to 2600$.
Plus, I throw in a cable release and some 120 film (if I have any left).
As you can imagine, I prefer to sell this locally (Montreal), because it is a hassle to ship this whole kit. That said, I will be happy to ship it to anybody who will love shooting it and who will keep the kit intact.
Ask me for additional photos or come and see the camera if you live in Montreal.
As you can see I am new here, but I wander more regularly on RFF. I am "mszargar" both on eBay and RFF, in case you feel the urge to check my previous evaluations!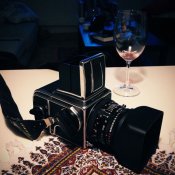 Last edited by a moderator: