Joined

Apr 14, 2009
Messages

48
Arca Swiss F-Line 2x3 (6x9cm) Camera kit for sale. This set includes the following:
- rear groundglass frame 6x9
- Universal bellows 6x9, 20cm, leather
- 6x9 long bellows (50cm)
- 50cm collapsible/folding rail and extension bracket
- Arca-Swiss 6x9 reflex viewer
- Hasselblad film holder adapter
- one Hasselblad 6x6 film holder
- one size 0 and one size 1 lens board
- 2 Arca Swiss bellows supports
- original Arca Swiss camera carrying bag.
Lens, tripod, tripod head are NOT included.
The kit is in used but good condition; bellows are light tight. The 50cm collapsible rail has a bit of an oddity: when assembled, the scale goes from 25 to 1, and then from 50 to 26 cm. I haven't figured out what caused this, but it doesn't impact it's operability.
The price is $1200 (via PayPal) plus insured shipping (UPS) fee.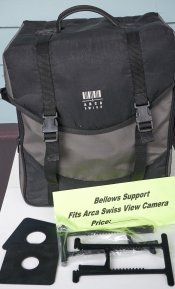 Last edited: