Just wanted to share my first VDB experience with you all.
I assist to a workshop in Madrid to initiate myself into Vandyke Brown process. We didn't focus on curve callibration or other digital side of the process as I've already worked with this (Which doesn't mean that I've mastered it, but well... I had to make the most of the time)
We use basically same adjusts in negatives to work with different papers, emulsion variations, toners etc... and check the results understanding what was going on there.
I was very surprised at how flexible the process is and how many micro-variations and possibilities it provides, unlike most of the analyses I have seen issued on it. It's a relatively inexpensive process that I think covers most of my needs and can give me a lot of creative play. I think that, all in all, I've discovered something that I can feel comfortable with and investigate.
Here you've some examples (Please don't judge coating borders or photo quality

It was more about internalising and mechanising the process in order to learn than about getting good copies.)
Same photo, diferent papers/toner (All with gelatine base) Analog 35mm escaned, digital negative:
This photo of a friend was picked because I wanted to see how VDB showed up with foggy/cloudy scenes in this "coarser" papers (Both with Acid, also 35mm film, scaned, digital neg):
An experiment with an extremely contrasted image with a hand in glow, this time in a very fine Washi Kozo paper (No gelatine, digital photo)
This one is my favourite, not only because it's one of my favourite places in the world (Tozal del Mallo in the Pyrenees, Ordesa National Park) but because was the first successfull one

Fabriano Artistico + gelatine + Acid emulsion + Gold Toner (Digital photo, GR1):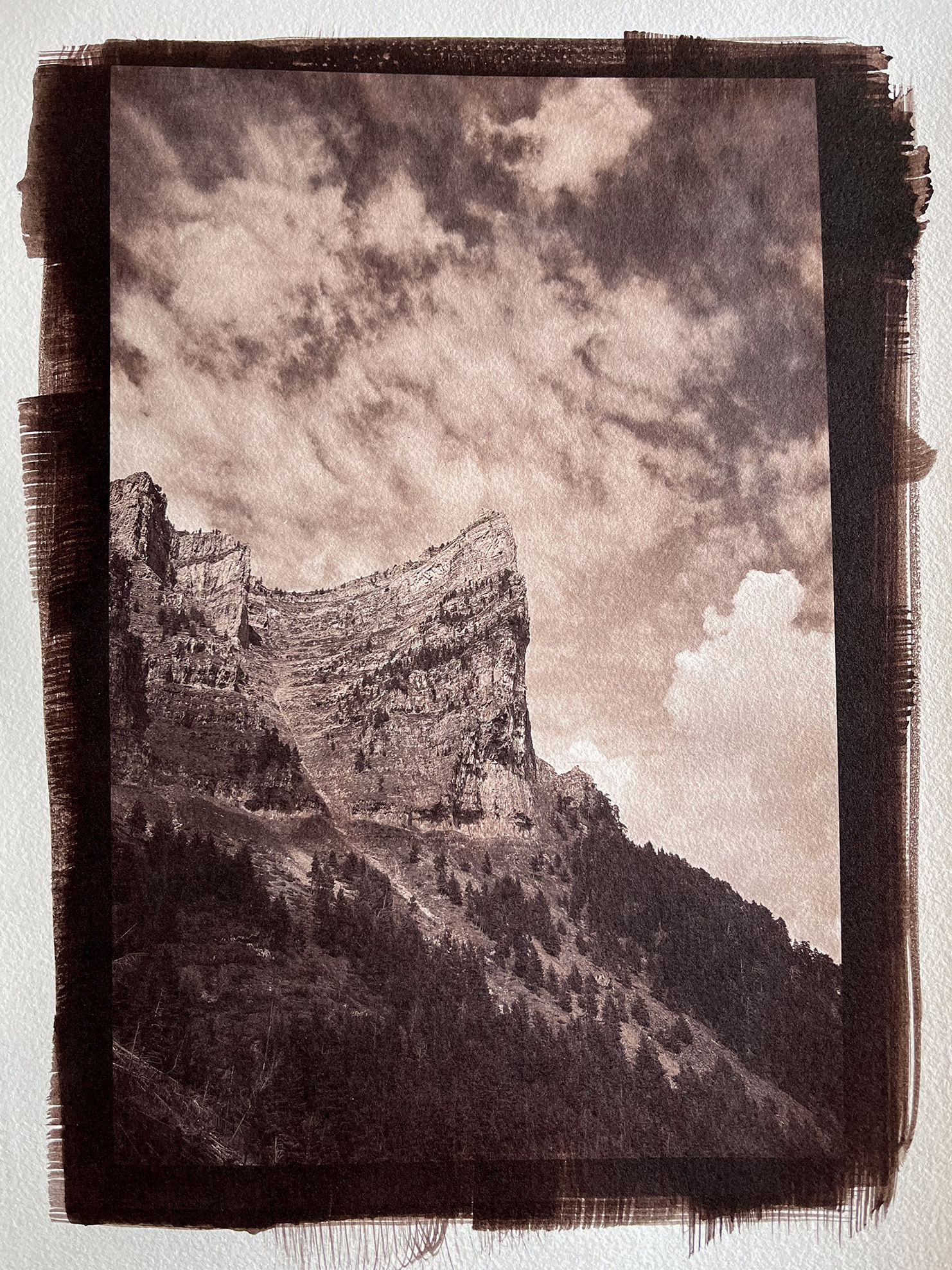 I'm starting to configure my tiny darkroom to be able to print VDB properly and making some test prints to callibrate my process (I've yet to test it against my 5x7 film...)
Any advice is wellcome!
Bests!