Joined

Jan 24, 2020
Messages

165
Location
Shooter

4x5 Format
Continuing the sale of the photographic content of a relative's estate. Cameras 4 and 5 incurred water damage related to an apartment fire. The remaining cameras were kept at a home separate from the apartment that burned and have no water/heat damage.
Cameras 1,2,4 and 5 are sold as-is. Buyer pays shipping. Camera 3 is in excellent shape, and camera 6 is mint or new. I'll accept returns and pay for return shipping of Camera 3 or Camera 6 if my description is found to be incorrect. Paypal, money order, or personal check are fine.
I used color photos with enhanced saturation on certain photos, to bring out signs of water damage. There are a few more photos of each camera available, via email, on demand.
Camera 1
- A Nikon FG camera with motor drive (untested) in very good cosmetic condition. A year ago I successfully shot a couple of rolls of film with this camera and haven't used it since. When I checked it out this week, the mirror stuck in the up position. I wasn't able to advance the film for that reason (I think), and the meter didn't come on. Phhhbtt! Free
Camera 2
- A Nikon FM2n, not working. The film advance lever isn't working, and the meter doesn't come on. The body shows some wear. I'd say it's in 'fair' cosmetic condition, maybe slightly more scuffed looking than the photos indicate. Battery compartment clean. No water damage. $75
Camera 3
- A Nikon FM2n in great shape, excellent to mint condition (if you've shopped Japanese photo vendors on ebay, you know that 'mint' can be pretty subjective. So I use the word here with some trepidation.) I shot 2 rolls of film through it, with no issues. Cosmetically, I find no flaws. $200 Sold
Camera 4
- A Nikon N90s with what looks like minor water damage. The bottom PCB doesn't look water damaged. The LCD panel lights up, and the camera looks like it should work, but it's otherwise unresponsive. Free
Camera 5
- A Nikon D7100 not working, water damage apparent, bottom circuit board water exposure. Free
Camera 6
- A Toyo-Field 45CF large format camera. I'd rate this in 'new' condition, as I see no evidence that it's ever been used. $900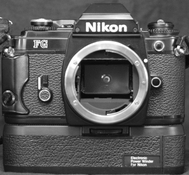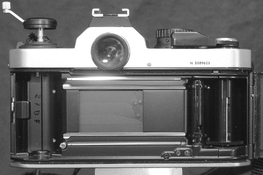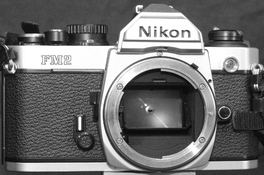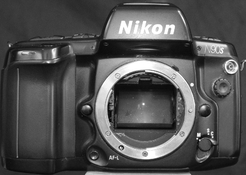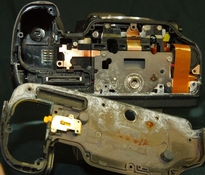 Last edited: