Joined

Sep 7, 2009
Messages

16
Location
Shooter

Large Format
I have benefited so much from photo fora -- using search engines to answer questions I get. I've not participated directly so much. I'll start by an introduction.
My name is Tom and I've recently moved back to Tokyo, Japan, having lived in Portland, Oregon for a dozen years. I did quite a bit of photography in my senior year of high school and freshman year of college in the late 1970s. When I didn't have access to a darkroom, I only took snapshots. Digital changed nothing for me in that regard. I take more snapshots with digital, but, for me, the end game of artistic photography is producing a beautiful print. I am getting back into analog photography and have taken darkroom print classes with Tim Porter, here in Tokyo. <
http://www.tim-porter.com/about.html
>. It's great to be back.
At the same time that I am reintroducing myself to analog photography, I have become quite nearly obsessed with learning CAD, fabrication techniques and 3D printing, with the objective of modifying cameras. I want to make a grip/cage for my camera, as well as an adapter to mount additional lenses.
Camera:
Convertible Horseman, MF modular rangefinder, completely manual.
Current lens
: 62mm f5.6 Horseman
Desired lenses
: a faster (f2.8) normal focal length (75mm to 127mm) lens, and a wider wide angle.
Film backs:
Horseman 6x7 and 6x9, plate/cut sheet holders (sixth-plate and 6x9 sheet), Polaroid.
Film:
Currently using Fuji Acros 100 120, as is cheapest here in Tokyo, and it works well enough.
Developer:
Looking for one that I can get in Tokyo for a reasonable price. Prefer liquid one shot.
Future Camera:
I'm thinking LF, a 4x5 field camera that can modify to 5x7. Open to suggestions.
If I buy a metal field camera: Toyo? Wista? Horseman? Linhof? Graphic? Or should I get wood?
Future film:
I want to try dry plates, both sixth-plate size for my MF camera and LF later on. Maybe alternative processes.
Looking forward to learning more and sharing what I learn.
Photo: Convertible Horseman with lens removed.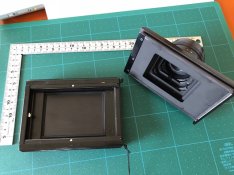 Tom