Joined

Sep 18, 2012
Messages

3,560
Location
Shooter

Pinhole
Today I decided to give myself a nice new toy for Christmas: a medium format 120 mm Petzval lens!
Sometime ago I passed on the Lomography Kickstarter project for a - sort of - Petzval lens for 35 mm format (Nikon and Canon). I didn't get one since I want a Petzval suitable for a Medium Format camera. And maybe somedays I'll even get me the real thing as well: a real old Petzval lens for a Large Format camera (that I don't own yet).
Recently I saw this new old style
Dead Link Removed
. It's a "
Medium format Petzvar f/3.8 120 mm Petzval fine art portrait lens
". It's close enough to the real thing for me. I actually like the barrel design from this lens, not mimicking an old brass tube like Lomo, but a design for a lens that suits a Hasselblad or Kiev camera - or even a Nikon or Canon body.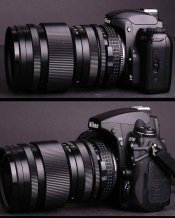 I found me a P6 mount body to get me one and it's just in time since the signing-up period ends in 42 hours (on 28th Dec 2013). This lens will also be available for Hasselblad mount but I lucked out in getting me a Hasselblad body from a photo studio that I'm helping to move to a new site. The assumed box with old analogue Hassy gear wasn't there anymore, but they gave me (there was a url link here which no longer exists) that turned up instead.
So now I ordered me the P6 mount version of this lens, since I'm going to receive a
Kiev 60 camera body
(with Pentacon Six mount) for free.
(image from camerapedia)
It sounds like fun to use an old Kiev camera and maybe I'll get me a Kiev 80 CM as well when the opportunity arises. I like to use all kind of analogue gear from before the digital age. I can think of worser hobbies ;-)
And in the mean time I'll keep an eye out for an old & cheap 200 series Hasselblad body for this lens: Denys (the guy from this Kickstarter project)
is contemplating on (there was a url link here which no longer exists).
I like the Petzval portrait image style and want to use the negatives for alt-photo printing like gum, carbon, albumen and bromoil printing.
These are examples from the Kickstarter site
Dead Link Removed
:
I think it will work better (for me) than the Lomography lens, since this one is a 120 mm lens (not 85 mm like Lomo), it is suited for medium format (not only 35 mm format) and of a real original Petzval design.
There was a comment on the Rangefinder Forum about the Lomo lens: "
Given that this (i.e. Lomo lens) is made by Zenit / KMZ, this looks an awful lot like the Helios 85mm. The swirly bokeh esp, as well as the size and other. Looks like they're chanigng the coating (maybe just not painting the brass?), and removing the aperture in favour of these weird insets.
" (source:
http://www.rangefinderforum.com/forums/showthread.php?t=135023
).
Well, Zenit resumed production of the Helios 40-2 85mm f/1.8 lens this summer and it is available now at 500$ with Nikon and Canon mount, as well as original M42 thread. That might explain for the Lomo "Petzval" design aperture of 2.2 and all other details. The Helios is a great lens (derived from Zeiss Biotar) but it is way better corrected than Petzval, and, in fact, is a double-gauss scheme ( Zeiss Planar etc.).
I'm hoping to see some real images and hear about the first experiences by Apug-members when this Lomo lens will be shipped somewhere in 2014. But I myself would rather buy a Helios 85 mm than the Lomo lens.
Since I decided not to buy the Lomo lens, I still had my money for this new project lens for Medium Format (instead of only 35 mm format). And with a P6 adapter it will still fit on a Nikon or Canon body if needed. The lens on
Dead Link Removed
is a genuine Petzval design, less corrected, with very shallow depth of field and other optical flaws, but providing the same distinctive Petzval image on medium format film, as seen on numerous large format forums.
A real 100 year old Petzval lens would be nice too (even better) but I haven't got the Large Format gear to use it yet. That's on my X-mas list for next year ;-)
For now I settle for the (ease of use) of Medium Format. This way I can make nice analogue negatives (rather easy) and print these myself (silver prints) or scan the negs to make digital negatives for alt-photo techniques I'm learning to practice. I'm guessing I'll have some fun in 2014!!
Bert from Holland
http://thetoadmen.blogspot.nl
Last edited by a moderator: