One of the first films I tried with this was Superia 800 XTRA shot at 12800, with a C-41 process time of 6 minutes.
EI 12800 no pre-flash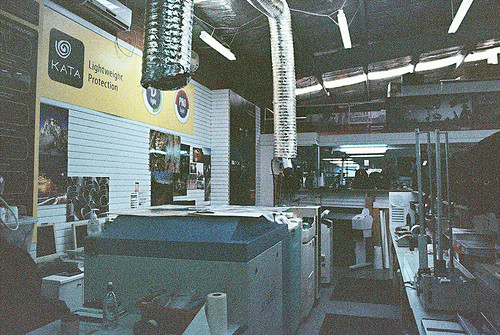 EI 12800 + Zone III pre-flash (Zone III for 12800 that is) - lesser pre-flash amounts did nothing.
I had been planning to apply this to Agfa CT Precisa as well (the made by Fuji stuff), I found N+4 development gave horribly bad dMax on a blank strip of film with no exposure though, so I abandoned that and went normal processing.
The results with Precisa in normal processing is much more mild of a difference, but it is there. I deliberately underexposed the shots to make sure there were some very low values to have something the pre-flash could affect.
Underexposure + Zone 0 pre-flash (for EI 100) <-- found no real difference without a pre-flash
Underexposure + Zone I pre-flash (for EI 100) <-- found a noticeable small difference, texture on black clothes, detail on black bags, etc.
I suspect a heavy push significantly helps pre-flash, and will improve contrast and detail in that area of the pre-flash, as with the neg results. In order to do that, I would need to use either a custom first developer with less solvent, or a pre-developer using a normal B&W developer before standard E-6 process. Given I have access to an E-6 processor, that is the easier simpler way for me to try it out to see how much I can squeeze out of Precisa.
easier to see difference:
Last edited by a moderator: