Joined

Dec 18, 2007
Messages

227
Location
Shooter

Multi Format
I can't believe I'm saying this, but I'm selling my Rolleiflex 3.5T kit. It's in near mint condition. I doubt you'll find one in better condition and with all these filters and accessories.
Works perfectly and has been well taken care of, as the photos show.
Here's what's included:
Rolleiflex 3.5T with 75mm Zeiss Tessar lens. The only sign of use I see is some very light rubbing on one of the side knobs.
Fitted leather case (near mint)
Original leather strap, mint
Maxwell Brightscreen with gridlines
Original screen
Rollei Lens Hood with case
Rolleinar Closeup Lens 2, like new
Rollei Bay 1 filters including:
UV
Yellow
Green
ND 2 (incredibly rare and hard to find)
Polarizing filter
CLA by Harry Fleenor, who installed the screen.
Two focusing diopters (normal and +2 if you wear glasses)
The ones on eBay right now are nowhere near this nice or complete, and are going for more than $800 with one asking $1500.
I'll sell mine for $875, net to me. PayPal only, U.S. only.
I have 100% positive feedback on eBay. Feel free to check me out (username markolw).
I'd rather sell it to someone here in a film group than some stranger on eBay, as I know you'll appreciate it and use it well.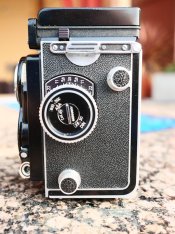 Last edited: