Joined

Jun 28, 2019
Messages

463
Location
Shooter

Multi Format
The Super 66 is the last generation of Kowa medium format cameras, that saw the addition of a removable back, along with all of the refinements that were learned along the way with the Kowa SIX and SIX/MM predecessors.
I have shot with this kit several times, just not a great deal in the past year or so. Reason for selling: thinning out the heard of 6x6 cameras that I own, in the hopes that they will be put to good use by others.
I will be selling another Super 66 kit and 2 more Kowa SIX's in the near future. I also have some hard to find parts like original leatherette pieces, new wind-crank assemblies, etc that I will be selling.
This kit includes the Kowa Super 66 body, WLF, 85mm lens, spare back, and grip.
Body: Black Kowa Super 66 with WLF. Condition is a conservative 9/10. Everything works as it should. Leatherette is in great condition, and overall shows very little signs of wear. Seals replaced in late 2021. This is one of the nicest Super 66 bodies I've seen.
Lens: Black Kowa 85mm f/2.8. Condition is a conservative 6/10, what I would call "user" condition. This is the last generation, and the best, of the 85mm f/2.8 lens. Shutter is snappy and works as it should. Shutter speeds are accurate, with the exception of ½ second and 1 second. These were a tad slow when I tested them last week, where ½ is probably closer to ¾ and 1 second is probably closer to 1.5. This isn't unusual, and with use/cycling will probably improve over time. There are two small marks on the front element at the edges that I've tried to capture in the photo. They look like marks from a lens spanner wrench, and do not affect images as they are on the outside edge. The back element has a little bit of fungus on the inside, which I have also tried to capture in the photo. This does not seem to have an effect on any images either. I have not pulled this lens apart to attempt to clean the back element – it may very well be an easy clean.
Back: Condition is a conservative 8/10. Everything works as it should. Seals replaced in late 2021.
Spare Back: Condition is a conservative 7/10. The leatherette on the very bottom of the back section had begun to peel at some point in the past and you can see where someone used some plyobond to glue it back. Seals replaced in late 2021. Includes hard to find plastic back cover in very good condition.
Grip: This was the grip that was designed for the Super 66's extra weight and girth, and connects to both the side and bottom of the camera. It has been refurbished. Main frame has been cleaned and re-shot in black. The original fake leather strap that always looks like crap on these when they fall apart, has been replaced with real black leather.
Even though the lens functions great and produces great images, its imperfections mean that I am selling the kit for less than I normally would. I am very picky about my equipment and want to offer full transparency to any prospective buyers.
$500 includes shipping to the continental USA. Payments accepted via paypal. Contact me directly to purchase.

Also will throw in for free a 5-pack of Fuji ACROS 1 from my large stash of it residing in my freezer.
Feel free to ask me any questions, thanks!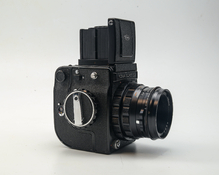 Last edited: