Joined

Oct 15, 2017
Messages

827
Location
Format

Multi Format
I've got a few photography related 16mm films in the Archive. One is a fantastic 16mm salesman's reel on flash photography. (non-Kodak.) This one on paper looks interesting. Hopefully it has some of the paper coating production.

It will be a long time before it ever gets scanned. Been trying to find a sponsor to buy the Archive a 16mm sound scanner for $60K - $70K. I have a cheap $6K silent 2K scanner, but don't want to scan everything twice again in 4K. And extracting sound with a silent scanner is a pain in the ass. You have to scan the optical track and fool with software for that.

With the gazillions of money that is squandered and thrown around like rice, you would think some philanthropist interested in history would throw some $ at the forgotten films to preserve. There is some work being done with these films, but you have to pay. Stock footage companies buy the films and charge you dollars per second to rent the footage. I tried Kickstarter, but they refused to run it.

Some samples from the paper film...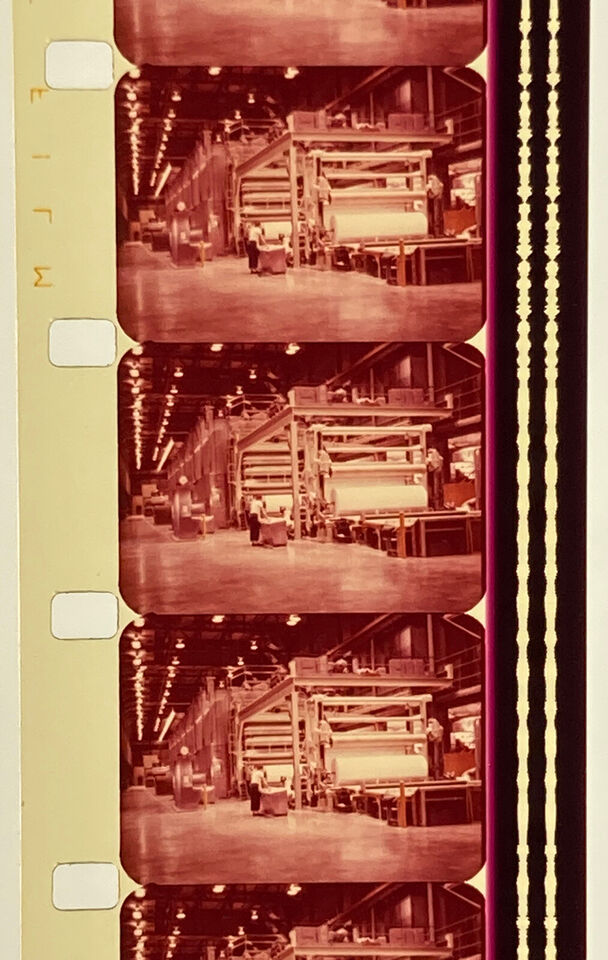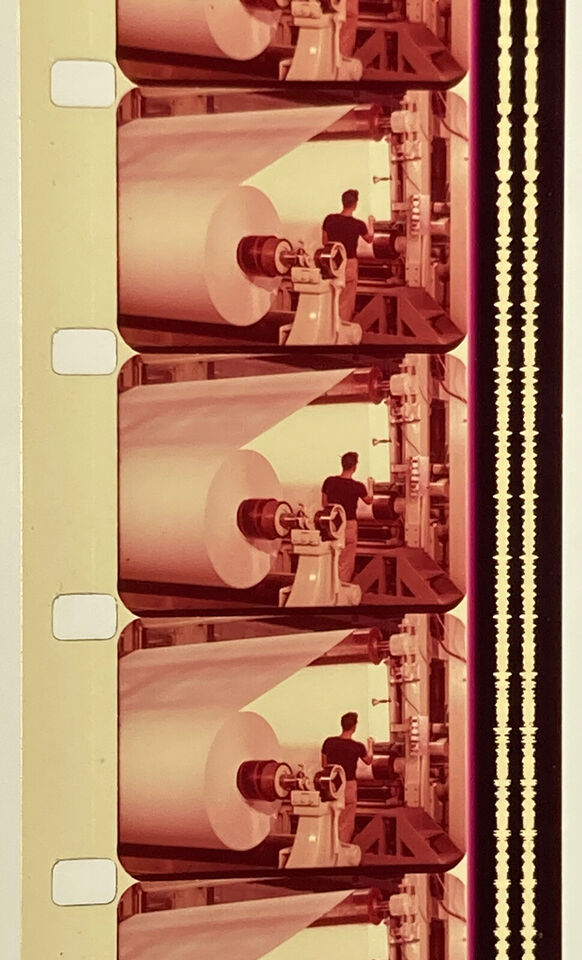 photos: eBay
I've got about 2.5 million feet of film in the cine' Archive. Much of it requires timed scans, which are about $1 a foot. Even untimed scans rack up in cost. They are about .40 a foot for 4K. This reel could probably get by with an untimed scan. By the time you are out the door with an untimed scan for this film, it is still in the $400 - $500 area. No other area of archival work is as money sucking as cine' film. Very hard to do on the cheap unless you want to produce shit for work. I keep buying lotto tickets!

That is why I need my own scanner. Plus, certain films I have, the commercial scanning companies won't scan. So, I'd still have to scan some of my films. All my work is open content...aka free. It allows me to only work on projects that interest me, regardless of profit. And it also allows me to not worry about cancel culture and prejudice.

Still, there is plenty of prejudice online, but it does not affect my profit, which in zero. It affects the durability of the material online as in canceled accounts and deleted material.
Last edited by a moderator: