Just developed my first roll of film. I could use some help determining my problem(s) Hopefully this is the right forum for this question.
Film type ilford 3200 - very expired, so this could be fog and/or film needs to be shot at a different speed. Film is very curly...ick
Camera mamiya 645 1000s with pd prism finder. The finder worked perfectly on my M645 (non 1000s) so it could be the camera is not firing accord to the finders shutter speed or the meter isnt cooperating with this camera.
Developer D76 1+1
developing time 19 mins with inversion every 2 minutes. (My technique was multiple inversions done slowly each time for about 10 seconds)
The first shot shows a white band. It is a bamboo stick to flatten the film on scanner but I didn't bother to move it because the picture is so awful. I do not understand the horizontal line unless I did an accidental double exposure.
The second shot is there just because you can see the text on the edge of the film. I am hoping this will give some clue to the problem.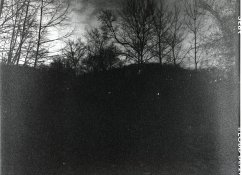 Its the only B&W film I have for now, I plan to get more soon! No, I dont mind starting the hard way.

Thanks for any input, including chastising me for my mistakes, I can take the hazing.