Joined

Dec 30, 2005
Messages

7,174
Location
Shooter

Multi Format
Before you all go a'worrying, I am selling this kit to help fund my jump to LF. This is my kit. So it is in good shape. I have an old Zeiss Ikon Contina 35mm RF if I want to mess around with the small stuff. So, without any further ado...
Camera Body:
Minolta X-700 Black
That's right. BLACK!
I do not like to refer to items as mint. Once they leave the showroom that generally eliminates appropriate use of that description. BUT THIS THING DOES LIKE VERY NICE. Works well. Definitely a good camera. Includes leather case (kind of rough in spots but all there and in one pretty piece) and the owner's manual. And I'll even throw in the new batteries.
Lenses:
Rokkor-X: 50mm f/1.7 MD mount lens
Filter mount diameter - 55mm. This lens is clean and smooth. Sweet fast Rokkor glass.
Albinar 80-200 f/3.9 Macro Zoom
Filter mount diameter - 55mm. This lens works smoothly. There is some dust in there but nothing that hurts functionality or light transmission.
Camera bag:
No manufacturer info. Dimensions: Interior - 10Lx7Wx6H (30Lx18Lx15H) Two side pockets, fasten with hook and loop. Front pouch reaches the length of the bag. Again, hook and loop closures. Carries by a handle on top and a shoulder strap. No zippers on this bag. Only downfall IMHO. However, it is clean and in good shape. It will get you there.
Filters
The circular filters I have used for years. They are in great shape. The Cokins I recieved from Lord knows where and I did not use them much. They are in varying stages of might be scratched.
COKIN 'A'
065 Green Soft Focus
005 ND Brown (Sepia?)
123 Grad ND (x4?)
002 ND Orange
057 Star
10 slot case with lid
2x three slot holders
1x slide cap
2x 55mm T-mount
1x 52mm T-mount
1x 49mm T-mount with integral sky filter
CIRCULAR
2x Hoya 55mm Circ Pol
1x Hoya 55mm Orange
1x Hoya 52mm NDx2
1x Hoya 52mm NDx4
1x Hoya 52mm NDx8
1x Promaster 52mm R2 Red
1x Quantaray 52mm Circ Pol
1x Vivitar 52mm 85A Orange
1x Bower 52mm Y2 Yellow
1x HCE 52mm 80B Blue
1x ??? 52mm CC40M Magenta
1x 55-52mm thread adapter
52mm top and bottom circular filter stack caps
Miscellany:
3x 49mm Lens Caps
1x MD three lug bayonet lens cap
1x MD body cap
I simply wish this to go to a good home and, given the bunch that peruses this sight, I believe that this will be a fact. I have other photographs, closeups, that I will post links to below so you can get a better look.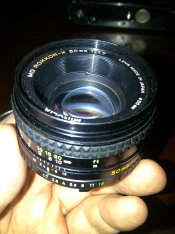 I don't want to get rich on this kit. How about 170USD. I will ship anywhere. I will ship UPS as this is what I have available at work. Contact me for shipping costs. If you wish to use paypal I have an account. If you wish to send a check or money order and wait for the money to hit my account, this is fine as well. And probably preferred. Not a deal breaker, though. Let the gawking commence.
Last edited by a moderator: