Joined

Jun 9, 2004
Messages

526
Location
Shooter

Multi Format
Up for sale is some classic Kodak Polymax that was rebranded as Ultrafine Fiber base Varigrade double weight glossy.
I got this paper about six years ago from a member who had bought a crap load of this paper and was getting out of the darkroom. He had bought it in 2006, wrapped it very well and put it in the freezer. According to Ultrafine and the members testing, it was determined it was Kodak Polymax. As soon as I received it I put it in my freezer with the idea that I would try some fiber base paper again. Well the best laid plans sometimes go awry and now you can have the opportunity to try this classic Kodak paper. Considering that the paper has been frozen for most of it's life I would think that the paper should be as good as when it rolled off the coater at Kodak. Just in case, I will include enough Anti-Fog #1 (Benzotriazole) to make 500cc of a 1% solution that would take care of any fog that you might experience. I doubt very much that you will need it but the Benzotriazole is something that every serious darkroom should have at hand.
2 - Boxes 8x10 100 Sheet - $75 ea
ALL 8x10 sold
3 - Boxes 11x14 50 Sheet - $75 ea.
One box sold
above plus shipping net to me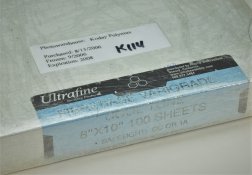 View attachment 210734
View attachment 210735
Last edited: