Joined

Dec 28, 2004
Messages

542
Location
Shooter

Medium Format
I have a number of accessories for my Bronica S2a that I no longer needor use, so rather than sitting on the shelf, I'll use the money to buy more film.
From what I know, these accessories will fit the Bronica C, S, S2,S2a, & EC. Everything is in working condition, some were never used by me and have the "scarcely used" look.
I have oodles of photographs, so let me know what interests you, and
I'll send out pics for your perusal. Any questions , please ask!
Postage is from Canada, so give me your destination, and I will send you
the cost of postage. I offer combined postage for multiple items.
Payment by PayPal, please.
1) Sports finder in original fake black leather zipped case and box.
$25.00
2) Nikkor telephoto lens, automatic preset diaphragm, 200/4.0 lens with
the original Nikkor close-up lens/filter, Komura rear lens cap and
Bronica screw-on front cap. Comes in the original red velvet lined box,
glass is impeccable. $125.00
3) Left Hand Grip, Model L in the original box. All parts arethere. Impeccable. $40.0
4) Film back, 120/220, in perfect working order. BLACK. $50.00
( I have too many backs sitting on the shelf)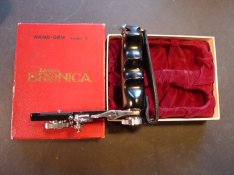 Thank you for looking. If I forgot to mention a detail, please ask. Want more pics, let me know.