Joined

Mar 27, 2012
Messages

383
Location
Shooter

35mm
My conditions: For items which don't include shipping (usually the cheap stuff), shipping is usually $20 - $25 (To Canada or the USA) so buy a bunch of stuff to make it worthwhile. I accept most payment methods. All prices are negotiable and I'm happy to do package deals. If any of my prices don't reflect what everyone else is asking please PM and so I can fix it. I like to keep communications quick so if I don't hear back from you 48 hours after I send a PM/email than I reserve the right to sell the item to a different buyer. I have positive feedback on Fourthirdsphoto, FredMiranda, Pentaxforums and GetDPI as Albino_BlacMan and on ebay as ctp046.
FDn 50/1.2 - $240 Shipped
Glass: Beautiful. Clean and clear with no scratches fungus or haze. Minor internal dust.
Aperture: Smooth and snappy. No oil but does show some wear
Focus: Smooth throughout the entire range
Cosmetics: Very nice, no spots of paint loss that I notice. However, the side of the mounting ring is engraved with the original owner's name, home town and phone number (I don't know why people do that to lenses like this, I'd be asking $300 + shipping if this wasn't on there). His name is also on the back of the mounting ring (he went all out)
Accessories: Comes with original box, rear cap and a B+W UV filter for the front (no front cap)
Note: I sold this lens and then had it returned to me once already because the buyer couldn't get the lens to stop down (using an FD to NEX adapter). The aperture works fine when used on my Canon FT (FD mount camera). In addition, I pressed the little button on the back, rotated the bayonet and then used the rear lever to stop down the aperture. I'm not sure if it was user error on the original owner's part, an adapter not made for FDn lenses (the back of FDn leses is a little different than FD lenses) or if there is actually something wrong with the lens (even though I can make it work). However, I'm selling the lens AS IS so if you can't get the aperture to work than you're stuck with it.
Tokina (FD Mount) 300/5.6 - $60 Shipped
Glass: Beautiful. Clean and clear with no scratches fungus or haze. Minor internal dust
Aperture: Smooth and snappy. No oil and minimal wear
Focus: Smooth throughout the entire range
Cosmetics: Slight paint loss on the aperture ring. This one is engraved on the lens barrel, behind the slide out hood (see the pictures) and on the back of the rear mount
Accessories: Rear cap and Optex skylight filter (no front cap)
Pictures
50/1.2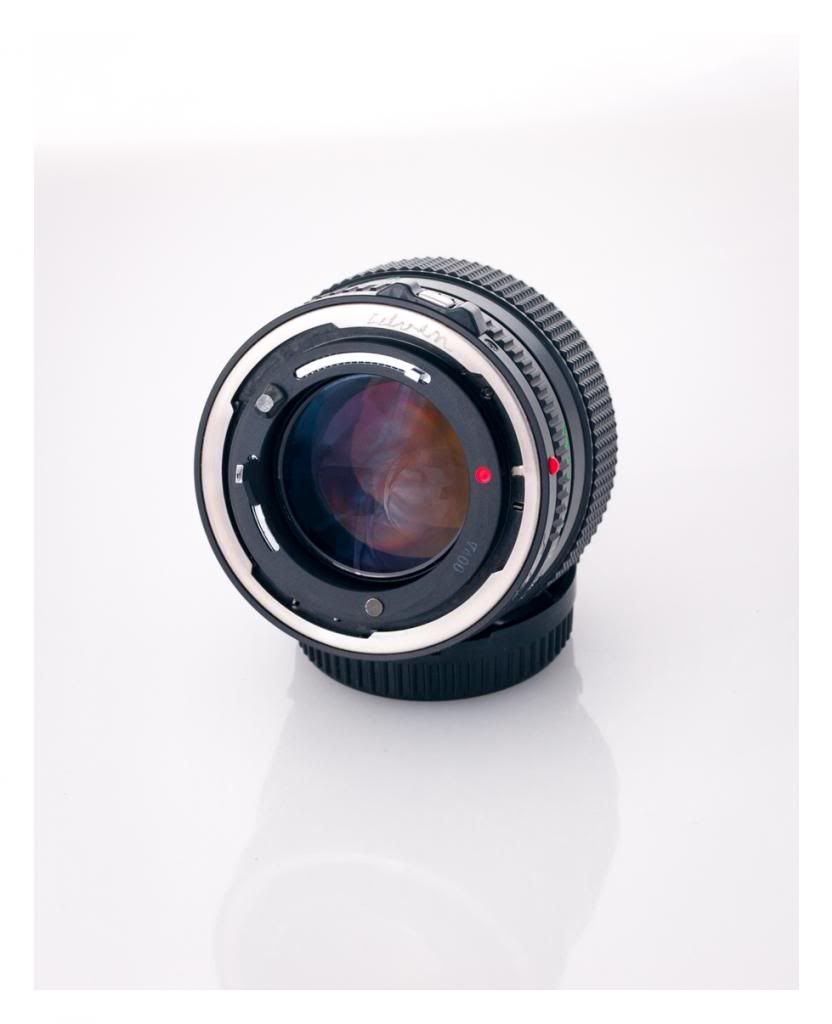 300/5.6