so Svema after the 90's went up and down in a chaotic way.
The huge factory was mostly dismantled excepted a part with enough tool/machines for production of film, used by the people who created Astrum.
The last website
http://www.astrum-ltd.com
is totally old and not maintained, contact page doesn't work, it will be deleted some time.
I went searching after some contact through the usual "cyrillic" networks and found a Telegram channel. There a price list and a ukr.net address.
That was thin, but I went going on, placed a small order, payment by SWIFT to private person's bank account in Kiev, and the other day got a receipt from the post office of Shostka ie. the Svema city itself. This, a regular receipt with a tracking number, my name as recipient, city and country (Norway), weight 0,5 kg as it is indeed a small test order (bulk roll of 120, some sheet film)
tracking shows the route: 20.04 at post office in Shostka, 23.04 ready to further shipment from Kievs customs office: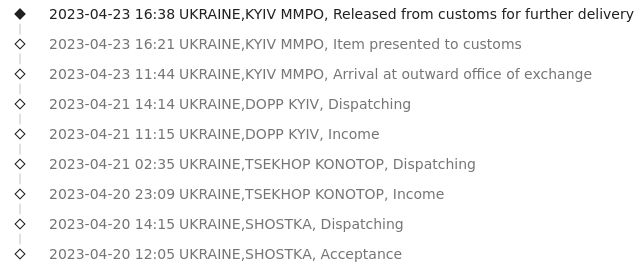 As per now, and until they hopefully set a regular landing website, I had two emails as contacts, one in ukr.net and the other in gmail.com but I will not provide them because they still have not set a new landing website, I will not that their emails may be spammed, and as it is by now it looks like a "grey" area operation.For people who are familiar with post-soviet realms back in the 90's early 2000's it's easy to understand what I mean, basically it doesn't look like a fully incorporated business and the fact that I wired the money to a particular and not an entity may be a symptom of this. But then I am good with that, it has nothing to do with reliability.
which brings the topic of VAT.
In order to be sure we understand each others and no linguistic misunderstanding I asked if they could tick the подарунок box on the CN23 form, and I asked by providing the link of the form on UkrPoshta:
https://www.ukrposhta.ua/doc/samples/posylky_CN23.pdf
answer was they ship by default like that.
the point with this is how your own country regulations are. Here an incoming parcel from abroad, if declared as "gift" and with a value under 3000kr is free of VAT, otherwise (one or the other) 25% VAT + a fixed "processing" fee. This will differ by countries.
Of course a customs office will check if it is or not a commercial item, but then if there is no invoice and the sender is not a fully registered commercial company with public information, data, product lists and prices, it's not commercial.... Yet in case of bigger quantities, the "gift" declaration will probably not work. Anyway all this is on the recipient's side.
so, I hopefully get it soon, and this may be a good source for 120 BW film in bulk. We'll see.
Last edited: