Joined

Jan 20, 2009
Messages

101
Location
Shooter

Large Format
Selling a very reliable 8x10 camera - there will be more items for sale as well as we are downsizing items that we are not currently using.
Ansco Universal Field 8x10
7.5" lens board 4 Lens boards included - none drilled out so blank slates
24" extension, bellows in fair/good condition
front support has issues holding heavy lenses, will slide down, we used a wood shim to keep items in place - we had issues with 2.5kg lens - brass cannons.
Ground glass 8x10 spring back is attached no issues.
$550 or OBO
I had to rework the underneath to repair a very old crack in the wood - had to cut out the damaged area and glue in new wood. I will have to upload a photo of the repair, I thought I had taken it. No effort to hide the repair was made on my part, I can't remember if it is oak or mahogany wood in the repair. The lens board shown is an example 4 uncut/unpainted boards will be sent w/ the camera.
Regards,
Erick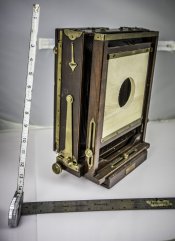 Last edited by a moderator: